Hathras case: CM Yogi gave 10 days more time to SIT
On the Hathras case, Uttar Pradesh Additional Chief Secretary Avnish Awasthi has said that on the orders of Chief Minister Adityanath Yogi, Special Investigation Team (SIT) has been given 10 days more time to submit its report. Also, read -> New rules of electricity connection
Following the orders of Chief Minister Yogi Adityanath, the time given to the Special Investigation Team (SIT) to submit their report to the CM has been extended by 10 days: Awanish K Awasthi, State Additional Chief Secretary, Home Department. #HathrasCase

— ANI UP (@ANINewsUP) October 7, 2020
Earlier, it was expected that the Special Investigation Team could submit its investigation report to the Uttar Pradesh government on Wednesday. On Tuesday, the Special Investigation Team met the victim's family. Also, the place along with the incident was inspected, where the body of the girl was burnt by the police.
On September 29, CM Yogi had constituted a three-member investigation team under the leadership of Home Secretary Bhagwan Swaroop and gave instructions to give the report in seven days. Also, read -> how to apply Kisan Credit Card online
हाथरस की दुर्भाग्यपूर्ण घटना और जुड़े सभी बिंदुओं की गहन पड़ताल के उद्देश्य से @UPGovt इस प्रकरण की विवेचना केंद्रीय अन्वेषण ब्यूरो (CBI) के माध्यम से कराने की संस्तुति कर रही है।

इस घटना के लिए जिम्मेदार सभी लोगों को कठोरतम सजा दिलाने के लिए हम संकल्पबद्ध हैं।

— Yogi Adityanath (@myogiadityanath) October 3, 2020
demanding a high-level judicial inquiry
However, the victim's family is demanding a high-level judicial inquiry into the matter. On Saturday, CM Yogi also said that 'they are recommending the CBI to investigate the matter for a deeper investigation into the Hathras case'.
The investigation, in this case, is still going on and new things are coming out every day. UP Police had denied the possibility of gang-rape in this case some time back.
According to local media reports, sources in the police now say that the mobile number of the deceased girl's brother continued to interact on the mobile of an accused.
According to police sources, call detail records have revealed that the number of the main accused and the victim's brother was discussed more than 100 times in five months. However, the police have not officially said anything about this yet. Also, read -> link ration card to Aadhaar
Question about burning the dead body at midnight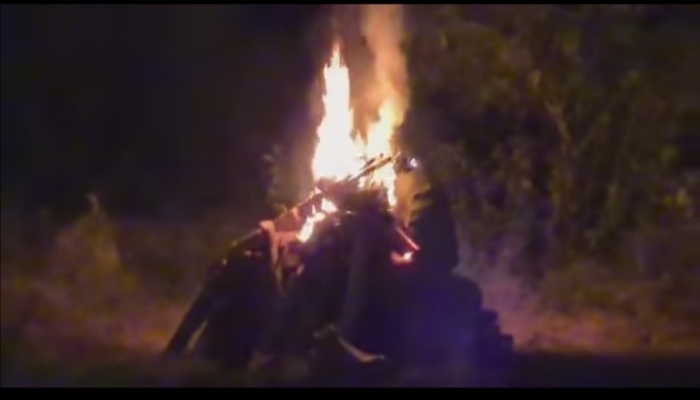 Meanwhile, the Hathras case has reached the Supreme Court. In this case, too, advocate AP Singh is going to advocate the accused. AP Singh was also the lawyer for the accused in the Nirbhaya incident. Also, read -> Update Aadhaar Card Address Online
Advocate AP Singh told the press on Tuesday that 'Hathras case is being politicized'. He alleged that the girl was killed by her brother in Hathras.
Talking to the press, he admitted that 'the denial of his daughter's body to the victim's family by the local administration is a violation of human rights'. He said that 'the victim's family should have been given the body of their daughter, for which the UP government has also taken action against the officials concerned. But many bouillons are seen in the charge of rape.
Why was this done?
The Hathras girl died in Delhi's Safdarjung Hospital, after which the body was taken to her village in Hathras last Tuesday, where the UP police, instead of handing over the body to the next of kin, directly set her on fire.
Why was this done? When the Supreme Court asked this question to the UP government, he said that "he had received intelligence that if there was a wait till dawn to cremate the body, mass violence could erupt."
Also, read
Strike against privatization in Uttar Pradesh